#10 Pomona College
Pomona College, located in Claremont California, receives the number ten spot on our list. Most Residence Halls on campus at Pomona are constructed in elegant Spanish style architecture. Each Residence Hall is in close proximity to a pool and features a lounge and grassy courtyard. Freshmen and sophomores at Pomona live on South Campus, while Juniors and Seniors live on North Campus.
#9 The University of Texas at Austin
The flagship university of the Texas system, UT is an incredible place for students. With a 31 billion dollar endowment, UT has recently spent millions on upgrading their dorms. Most dorms at the University of Texas are above average, however, the reason why UT is on our list is because of their Callaway House. Featuring a rooftop pool, hot tubs, a 24-hour fitness center, a theater room, game rooms, and 24/7 on/call staff, the Callaway House at UT is the pinnacle of luxury.
#8 Yale University
Internationally acclaimed for its academics and student life, Yale University also has an incredible residential experience for its students. Yale employs the residential college system, where each student is randomly placed into one of 14 different residential colleges, which is where they'll reside for their four years at Yale. Each of these residential colleges is uniquely built and contains a courtyard, library, dining hall, movie theater, recording studio, dance studio, and gym.
#7 Emory University
Coming in at number seven, Emory University in Atlanta, Georgia, has beautifully designed residential halls for freshmen and sophomores that range from historic southern style buildings to magnificent modern structures. Each residential hall has a well-furnished lounge equipped with flat-screen televisions, tables, and chairs. Upperclassmen have the opportunity to live at the Clairmont campus, which is modeled like a country club. Students at Clairmont have access to a gym, an outdoor swimming pool, and tennis courts. Clairmont residents live in apartments consisting of a living room, dining room, kitchen, 3 bedrooms, and 2 bathrooms.
#6 Union University
Nestled in Jackson, Tennessee, Union University made number six on our list due to their unique approach to housing. Each student at Union University gets their own room and lives in a fully furnished apartment that they share with 3 other students. These apartments contain a kitchen, living room, and 2 bathrooms. The housing situation at Union University is perfect for students who want the benefit of having their own room, while having the social aspect of sharing a common space with other students. For students seeking to live in a fraternity or sorority, UU has plenty of greek life opportunities.
#5 Rice University
Rice University of Houston, Texas, is well-known for its residential college system, where each student is placed into one of their 11 different residential colleges. Each college was built its own unique architectural design and contains its own government, lecture series, and social events. The dorms at Rice are different at each residential college, spanning from a double to a 6 person dorm. Despite this difference, each dorm is spacious and nicely furnished.
#4 High Point University
Boasting the best dorms in the South, High Point University is located in High Point, North Carolina. High Point is famous for constantly renovating and building new dorms so that students have the best residential experience possible. The crown jewel of High Point's modern dorms is their R.G. Wanek Center. This residence hall contains a movie theater, arcade, and a steakhouse solely for the use of the students who live there. With incredibly spacious dorms, the 65-million-dollar R.G. Wanek Center is truly the definition of luxury.
#3 Bowdoin College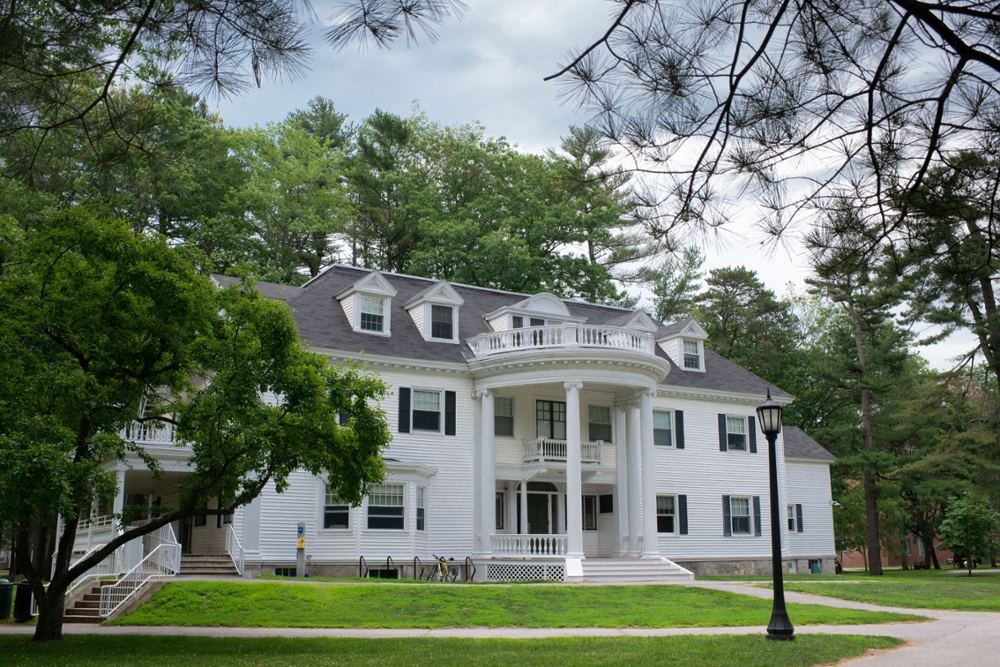 Bowdoin College, located in Brunswick, Maine, has beautiful brick residential halls for students to live in. Unique to Bowdoin, students can apply to live in College Houses, which are charming New England style homes where 20-30 students will live. Each College House contains living rooms, full kitchens, dining rooms, and study rooms. Decorated with fireplaces and chandeliers these College Houses are the pinnacle of residential life at Bowdoin.
#2 Scripps College
Scripps College is an elite liberal arts college located in Claremont, California. The dorms at Scripps were designed to fit the Mediterranean style of architecture that the campus is famous for. These dorms look more like mansions than college dorms. Each dorm contains elegant living rooms and beautiful courtyards that are the perfect locations for students to study.
#1 Washington University in St. Louis
Located in St. Louis, Missouri, Washington University has the nicest dorms in the United States. WashU has state of the art modern dorms along with more traditional dorms. Freshmen and sophomores live in their South 40 building complex. The South 40 is described as a "small town" that contains its own fitness center, bookstore, convenience store, basketball courts, music practice rooms, and many other amenities that nourish student activities. Each dorm room at Wash U is spacious and luxurious. Students sleep on Tempurpedic mattresses and have cleaning crews who clean the bathrooms the adjoining dorm rooms share.
Sources:
[1] https://www.pomona.edu/administration/housing-residence-life/residential-life/residence-halls-pomona-college
[2] https://www.americancampus.com/student-apartments/tx/college-station/the-callaway-house
[3] https://admissions.yale.edu/residential-colleges
[4] https://isss.emory.edu/life_in_the_us/housing/index.html
[5] https://www.uu.edu/library/
[6] https://scholarship.rice.edu/handle/1911/72134
[7] http://www.highpoint.edu/blog/2017/09/hpu-named-no-1-three-times-by-u-s-news-and-world-report/
[8] https://www.bowdoin.edu/residential-life/college-houses/the-houses.html
[9] https://www.pinterest.com/pin/484981453594671082/?lp=true
[10] https://claycorp.com/project/south-40-village-washington-university/